A Web app, also known as a browsed-based app, is software which is designed and coded in browser-supported programming language like HTML5, Java, Flash and CSS, and unlike a native/market app, does not require any disk space on the device

Best mobile casino sites
Near identical in style to a fully-fledged mobile website, the Web app differs in that it allows users to access a certain site without actually having to go through a Web browser – it acts like a regular application, with only the software processed through the Internet, and the actual program removing any Web remains, such as the URL toolbar.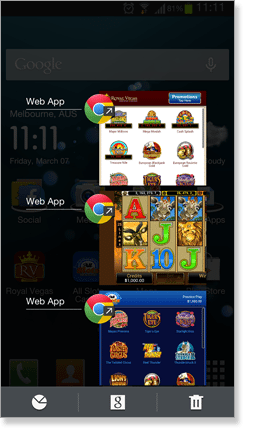 First developed by Apple, and now able to accessed from almost all operating systems with data-connections (Windows, iOS, Android, Linux, BlackBerry – cross-platform compatibility), the Web application simply requires a compatible Web browser to operate, and no upgrade procedures are necessary as new features are processed through the server and automatically updated for the users.
Also, the introduction of Web applications to the latest tablet and smartphone devices is a much easier process than the introduction of native/market apps, as al new devices have built-in browsers, and many more developers are choosing to offer their software via Web apps.
Web apps for online casinos
The online casino sites we endorse all offer fully-compatible mobile and tablet dedicated websites, and from these websites, we can easily create our own casino/casino game Web apps which reside on our home screen for a much more efficient route to play real money titles. Graphics and visual and audio quality remain just as good as they were within the browser website.
Sites reliant upon strong visuals and audio such as real money casinos have been boosted by the introduction of HTML5 technology, with programmers able to create rich and interactive interfaces which are reflected in the Web app.
Here is the list of our endorsed mobile casino websites which you can load up by tapping the links direct from your smartphone or tablet. Once loaded, you can then create your browser-based application, which will we now show you how to do.
Mongoose Casino
Raging Bull
Mucho Vegas
We have used the Thrills Mobile Casino (which is unfortunately no longer available to Australian players) to show you how to customise your own casino Web application for both iOS and Android devices:
Once you've opened the mobile site from your device, you can either access your in-browser settings right away and tap the 'add to home screen' button, to generate a Web app for the entire casino, or navigate in to your game of choice and bring up the in-browser settings from there, thus creating a browser-based application specific for that casino title. The two images below show where the 'add to home screen' button is located on an iPhone and a Samsung Galaxy device.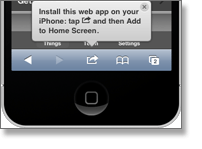 Create a name for the application, and hit add, and the icon will be instantly available on your home screen, nestled among your other apps. You can do this with all our online casinos and from within any compatible Web browser (the process is similar for other smartphones and tablets). You can now access all the mobile casino games directly from this app, with the ability to bank securely, check your balance, check for updated titles, promotions and bonuses and alter personal settings.
We recommend creating the app for the full lobby, and maybe one or two of your favourite games, so you can always instantly access the full range of titles (each casino holds over 100 mobile/tablet casino games).
One shortcoming of the Web app: If the sever of the Web app shuts up shop, the Web app will no longer work, either (the proprietor would no longer be in operation). A native/market app does not have this problem – it can still be downloaded from an app distributing store even after the designer has stopped producing it.
The future of application software
While Web apps require a data connection to operate, 'offline Web application caching' technology is being developed and being developed quickly. Once this technology is in full operation, Web apps will possess the ability to operate offline.
Mobile Internet technology is also progressing at rapid rate and becoming more sophisticated, and so designers and developers of Web applications are able to better secure their software, and utilise browser language which is able to perform the same interactive and advanced tasks as native applications.
And as Web applications hold the ability to operate across a multitude of platforms without requiring any changes to the software, experts are predicting these browser-based apps will become more popular, and the popularity of market apps will decline. To build these apps is cheaper, and far better for marketability, as designers are able to market one app to an audience using different operating systems and different mediums.