As an Aussie online casino player, we all want a payment method which is AUD-friendly, easy to use, and of course secure, all the while being accepted by reputable Internet casinos. POLi ticks all these boxes, so when it comes time to make a real money deposit to your favourite casino site we strongly recommend this online payment service that's available exclusively for Australian and New Zealand players.

Online casinos accepting POLi payments
An alternative to credit card payments?

Instead of trying to find a web casino which does accept your credit or debit card, it is better to stay at a secure online casino and use an alternative method. POLi, the electronic payment method, is said to be a great alternative for those who can't use their credit or debit cards at the regulated online casinos.
For example, many players use credit or debit cards which aren't branded with Visa or MasterCard, while others use cards which have an Advanced Cash Rate fee for gambling transactions attached due to their financial institution, thus POLi is a free and accepted alternative.
POLi requires an Australian, or New Zealand, supported bank account to make a transaction and is somewhat similar to a bank transfer, though there are less details to fill out. It allows players to make a deposit via the POLi servers using your Internet banking and it means you don't have to fill out all of the little credit or debit card details – all you have to use is your online banking details (provided you do have Internet banking).
Another benefit to POLi is that a receipt is immediately provided to the Internet casino and therefore the funds are processed instantaneously.
POLi payment demo
POLi has created a POLi video to explain the payment process and what the payment method is all about. It can be viewed on their official website, but I will explain the whole process and my experience below when funding my casino account with POLi.
Step 1: First I signed up to my preferred online casino from the list above, choosing Guts Casino because it has a large mobile gaming catalogue and I regularly play on my smartphone and tablet.
Step 2: I then clicked on the deposit option to find a fair few options available, though POLi was my preferred method.
Step 3: From here, I entered the amount I wanted to deposit in the box next to the POLi logo and clicked confirm.
Step 4: I was then prompted to again confirm the payment method and the amount which I did and I was taken to the POLi payment interface.
Step 5: Here, there was a long list of Australian supported banks including The Commonwealth Bank of Australia, NAB, Westpac, Bank of Queensland, Citibank, and many more which you can view here https://www.polipayments.com/Banks.
Step 6: I picked Newcastle Permanent as my bank, then clicked on the 'proceed with payment' link.
Step 7: The POLi servers then connected with my financial institution and the Internet banking page appeared.
Step 8: Here, I entered my Internet banking details and confirmed the transaction.
A copy of the receipt went straight to Guts online casino via POLi and my funds were credited to my account.
Using POLi on my smartphone and tablet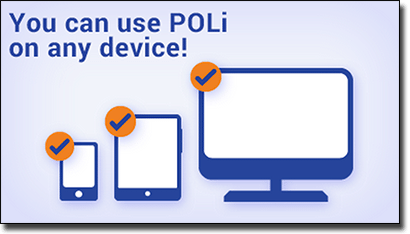 Players can also use POLi to make a deposit to their mobile casino account on their smartphones and tablets, which I decided to try.
Step 1: I opened up my Guts web app (all of the above online casinos offer POLi as a payment option for their mobile platform but i chose Guts for this example) and signed in using the same details I use for the desktop version.
Step 2: I went to the mobile banking page of the online casino and entered the amount I wanted to deposit, next to the POLi logo.
Step 3: I was then required to confirm that payment method and the amount, just as the desktop version requires, and I clicked 'Deposit'.
Step 4: On the same POLi page as the desktop process, I was then able to pick my bank, with all the same supported banking options as the desktop version available.
Step 5: I picked my bank then click on 'proceed with payment'.
Step 6: This is the part where the process looked different to the desktop version, as I was not taken to my Internet banking mobile app nor the Internet banking mobile site, rather I was required to input my banking details into the POLi mobile banking page. However, there is a "Your Security' disclaimer which states that POLi doesn't store my login details and I read their privacy policy to confirm it was safe.
Step 7: I entered my Internet banking details and once again confirmed the transaction.
My funds appeared in my account quickly, basically at the same rate as they did with the desktop process.
POLi security
Having to enter my Internet banking details via the POLI interface did have me worried at first with regards to how secure my financial details were. While I had a good experience with the payment method on both my Mac laptop and Apple iPhone, it wasn't until I had looked into their advanced security measures that I chose to give the payment method a go.
POLi operates via proxy so you can access your Internet banking via their servers. They implement modern digital encryption technology to ensure that all transactions using POLI are secure so no one can get access to your information. Additionally, no information is stored or even cached by POLi.
Additionally, POLi uses Firewall security to add another layer of protection from viruses and attacks.
Overall thoughts on POLi payments
POLi is an easy to use option for players who can't, or don't want to, use their credit or debit card when making a deposit at a web casino. For example, for those who are with Citibank that can't use their credit or debit card to make a deposit despite being a Visa or MasterCard, can use POLi.
The method is incredibly safe with the use of proxy and digital encryption technology to ensure no one can access personal information. Additionally, their privacy policy ensures player's information isn't being stored on the POLI servers.
POLi is a solid payment method worth using when making a deposit. Unfortunately, this method isn't available for use when making withdrawals.