Winning the lottery is every man, woman, and even every pets dream come true (the brand of pet food they would receive would be next level!). We don't mean a few thousand dollars, though it's always welcomed, instead we mean lotteries in the millions of dollars.
So many things are possible with a few million: a car, a house, help Mum and Dad pay off their home. A big lottery win means the world would truly be your oyster. So how would you spend your lottery winnings?

Online casinos with the biggest wins
How to win the lottery
I occasionally buy a lottery ticket when I see it has surpassed the seven figure mark to eight, at my local news agency and as I walk away with the ticket in my hand I imagine myself returning to scan only to find I've become a millionaire.
Sometimes I even dream of winning it without even purchasing a ticket, but the sure fire way to winning the lottery is being in it – purchase a ticket online or at a retail outlet if you want a chance at winning yourself.
Once I have my ticket, I usually let my imagination run wild and if I were to win I would spend it the following ways.
Buy a house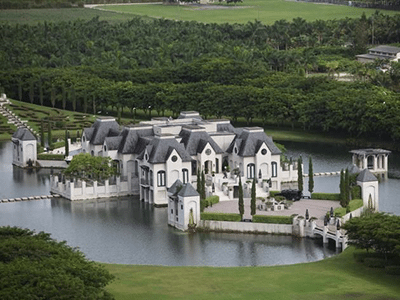 I'm not talking just any house: I mean a beachfront property with a moat if I could – Maldives style. But since I am a realist I will take ocean views, multiple storeys featuring a beautiful marble staircase, and a boat situated out on my patio. I would then make money off this property by renting it out on Airbnb as I travel the world.
Go on a holiday
While backpacking around the world, staying in bug-infested hostels, and drinking with smelly strangers sounds fun and all, I would spend my lottery winnings on a five-star around the world trip.
I would fly first class to London and travel my way around Europe, staying in the best hotels and villas and even visit the world's greatest casinos – specifically in Monaco. I would take a yacht around the Greek Islands and have parties even Shane Warne couldn't throw and eventually dock until I was ready to discover the rest of the world.
When the time comes I would buy a private jet so I could jet set off to any place my heart desired without the annoyance of those irritating tray tables.
Buy an island
You can buy some islands cheaper than real estate in Sydney, NSW, at the time of writing, so this wouldn't put a huge dent in the winnings.
What would, is the plans I have for the island. Making it the number one destination in the world for festivals – featuring an artist's village, accommodation for guests, and all the facilities you could possible dream up – this island would be where the biggest bands and artists in the world would come to play.
Spoil my family
I'd have to divide up some of my winnings and allocate them to my mum and dad – and then hold a competition for my brother and sister to give them a chance at scoring some cash. I would set up various challenges including tests based on intelligence, skills, and luck and watch them battle it out. The winner would pocket more cash, but the loser would still score a lot too – potentially.
Buy Tidal
I would spend a lot of money on Tidal just so I could shut it down and force Kanye, Beyoncé, and Jay-Z to release their music on a free platform such as Spotify – and maybe buy a premium subscription to remove those pesky ads while I'm at it.
Buy the ending of Game of Thrones
I'd pay a huge sum of money to George R.R. Martin to find out the ending of Game of Thrones before everyone else.
Donate to a Wildlife Conservation Program
A donation would be essential, because I'm not completely materialistic and heartless. I would potentially start my own program given the right training and advice – and money can buy you that.
As a result of writing my wild lottery-winning fantasies down, I've now realised I'll need to win a lot of jackpots for these dreams to come true. While I'll be upping my ticket purchases I think my best bet would to act like an average human being, share my winnings, and ultimately enjoy life.
If you do happen to win the lottery, the best advice I could give is to manage it and not to blow it on all your fantasies – splurging on one or two might not hurt though.