Pontoon shares quite a bit in common with traditional blackjack, with a number of subtle differences. Understanding and knowing how to play blackjack would make for an easy transition into pontoon, even if some of the terminology is different. Pontoon is among the most popular card games to play online, and is also a popular table game played at land-based casinos across Australia and Asia. In this article we'll cover the basic rules of Pontoon, how to play, and some strategic tips for that slight edge.

Featured casinos
How to play pontoon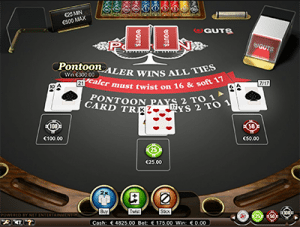 Traditionally, pontoon is played with 6-8 complete card decks. Pontoon variants that use two decks offer the lowest house edge of 0.34 percent. If you've ever played blackjack, the card values will be familiar to you: all numbered cards count as face value; Jacks, Queens and Kings are valued at 10; and Aces can be either one or 11.
While the core fundamentals of the game are essentially the same, pontoon has a number of differences that really set it apart from blackjack and other forms of 21. In particularly, the hand rankings have different names, and these hands are generally infused into the rule of play, which we'll cover later.
Pontoon: A hard with an Ace and a 10-value card
Five-Card Trick:A hand of five cards that doesn't bust
Non-Busted Hand:With a four or fewer cards where the total value of the hand is 21 or less
Busted Hand:Any hand with a value above 21
Dealing
One of the main differences in pontoon is in the deal. The dealer does not show their hand, and instead claims two cards on the deal and keeps them face down. Each player is dealt two cards facing down. The dealer checks their cards, and the round ends if they have a Pontoon hand, with all cards and wagers returned to the house. The round continues if the dealer doesn't have a Pontoon.
Understanding the terminology
Twist: Draw an additional card after the initial deal
Stick: Stand on the current hand
Buy: Double the bet and draw an additional card, so long as the total number of cards in the hand is less than four. Cards can be split if the value is the same, with the player required to double-down on the initial bet. Generally, only one additional split is permitting, meaning no one player can ever have more than three active hands.
Playing the game
If the dealer doesn't have a Pontoon and the round continues, players must decide whether they want to twist, stick, buy or split their hand. Pontoon is unique in that a player can't stick if their hand is less than 15: only when their hand is above 15 can they stick to challenge the dealer. As with blackjack, if you go over 21 you bust. However, draw 5 cards and stay below 21, and your hand will win regardless of the hand the dealer ends up with.
A pontoon is a guaranteed win so long as the dealer does not also have one. Once you land a 21 or a five-card trick, your hand sticks and you win. The dealer will still have to play out their hand for others at the table, and will play until one of the following conditions are met:
The dealer must twist until they reach a cap value of 17
The dealer will stick on a five-card trick
The dealer will stick with a total hand value of 21
Once the dealer has played their hand, each player hand is compared to the dealer, with the higher total hand value below 22 winning. However, the dealer still wins if there is a tie.
Pontoon house edge
Playing with two decks makes for a house edge of 0.34 percent. This can vary, however
The payouts in Pontoon are as follows:
Pontoon hand pays 2:1
Five-card trick winning hand pays 2:1
All other winning hands pay 1:1
Where to play Pontoon online free and real money
If you wish to try your luck at a game of pontoon at a land-based casino, you might find yourself hovering around packed tables. That's because with pontoon offering an attractive, player-friend house edge of 0.34 percent, casinos tend to favour American Spanish 21 and other blackjack variants. Thankfully, many online casinos offer pontoon, with broad betting ranges starting at as low as $0.50 and as high as $10,000 for high stakes players.
Guts.com and GDayCasino.com offer a number of pontoon games, varying between low-stakes tables and pro tables with higher betting caps. All three casinos offer Australian dollar deposits, and can be accessed and played on mobile and in-browser on your desktop.
Sign up at Guts Casino to claim a new player welcome bonus of up to $500 in bonus money, and get started playing online pontoon and other fun blackjack variants.