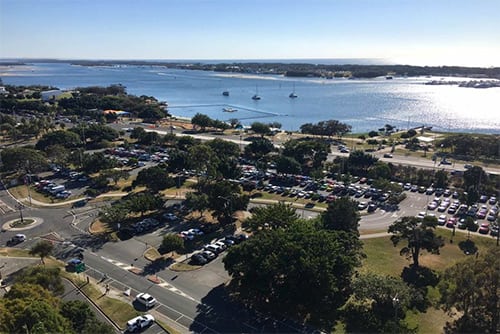 The Queensland state government has reportedly selected a carpark in Southport as the ideal location for a proposed billion-dollar Las Vegas-styled casino resort.
Sources close the Palaszczuk administration say Carey Park, located close to the light rail and Broadwater, is the top pick for the much-awaited entertainment hub.
Situated between Marine Parade and the Gold Coast Highway, the projected development would include parkland, car parking and a bowls club.
It is one of about 10 sites, from Labrador to Broadbeach, in consideration for the project after months of scouting the glitter strip.
The Palaszczuk government is planning to go to market by the end of the year for a tourism hub with a casino.
Last year, the same administration surprised all and sundry when it rejected proposals for a $3 billion casino resort on The Spit.
READ: MORE GAMBLING NEWS
Sources revealed to The Sunday Mail that most of the sites previously proposed for the project have been rejected, with just a few still under consideration.
Carey Park is highly regarded due to its size, shape, and closeness to water and transport.
The Mayor of Gold Coast, Tom Tate, strongly supported the use of Carey Park, after The Spit plan was dropped.
However, local anti-casino councillor Dawn Crichlow said the site in question was riddled with potential impediments, including a heritage-listed seawall.
"I don't believe there's any site in the city where we need an integrated resort," she told the press.
Ms Crichlow was impressed with a decision by Tourism Minister Kate Jones to reject a site at the state-owned Broadwater Tourist Park last week.
Nonetheless, the Tuesley Park location remains in calculations.
If the project is constructed on state-owned land, it would create a consistent revenue stream for years if a long-term lease is signed – as per the Queen's Wharf casino resort project under development in Brisbane.
There is speculation that developers are considering other Gold Coast locations, but the said sites may be too small or do not meet the criteria.
These sites include vacant land at Marine Parade (formerly home to Southport's historic Star of the Sea convent), Surfers Paradise's Vomitron amusement ride site and state-owned land at Southport on the corner of Scarborough and Queen Streets.