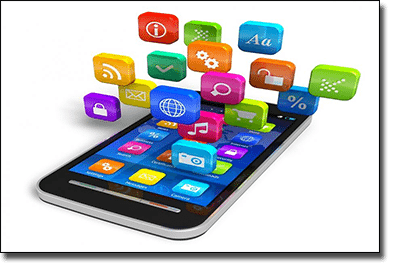 The two leading application distributing platforms – Apple's App Store and Android's Google Play – each provide users with over 1.5 million apps to download, both free and for nominal fees, and that number has been increasing ever since the introduction of these markets.
Gambling and casino applications make up a signifiant portion of the available apps. Virtual money (pretend) social pokies, roulette, blackjack, keno, bingo, baccarat and other casino favourites exist in the thousands.
In Australia, the overwhelming majority of these gambling applications do not allow users to play casino games for real money, due to established national restrictions which aim to keep downloadable market apps (also known as native apps) and other interactive services free from facilitating real cash online gambling.
While many forms of online and interactive betting is legal in Australian, such as regulated sports wagering and syndicated online lotteries, other forms (like casino and poker) haven't faired as well. So Apple and Google have been politely asked to remove all forms of apps which offer the ability to receive real money financial gains via gameplay.
However, in-app purchases are certainly not illegal, and many social gaming apps, such as Candy Crush Saga and FarmVille offer their apps for free, but then require real cash investments for players to progress further in the game, with the operators aim for players to dig in to their savings, and the players' aims to spend as much time playing and 'achieve' as much as possible.
What's the difference between real money apps and social money apps?
A question frequently asked is: where should we draw the line between interactive real money betting which allows for financial gains, and social gaming which allows for in-app purchases in order to reach higher levels and acquire better rewards?
Both gaming styles exhibit the same player behaviour, and you can lose money quickly. However, with games which lend themselves to in-app purchases (known as freemium games), you stand no chance of making money.
Professor of Gambling Studies at Nottingham University's International Gaming Research Unit, Dr. Mark Griffiths, explained that "… the behavioural and psychological principles involved that keep you gambling again and again are very much there," when referring to the similarity between social gaming apps and real money gambling.
Do any real money casino apps exist for Australians?
As it stands at the moment, there is one trusted and regulated native app available for download by tapping our links or images on this page directly on your mobile device, and it's called Regal Vegas Casino. It has managed to slip through the hands of the people who manage which apps are allowed and prohibited within distributing platforms.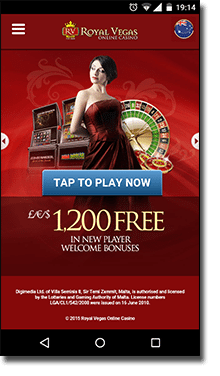 The official native app of the Royal Vegas Online Casino, the Regal Vegas Casino is named as such for marketing purposes, and once installed, offers both a real money and free play interface for Australian users.
Australians are legally allowed to access and utilise the real money AUD services offered through the app. It falls on the operator of the interactive gambling product to comply with the national regulations (the Interactive Gambling Act of 2001), which currently, Fortune Lounge (the operator of the Regal Vegas app), is not technically obeying.
However, what is important to realise as an Aussie player, is this market app is 100% safe, audited and regulated on a constant basis by independent gaming testing agency eCOGRA (eCommerce Online Gaming Regulation and Assurance) which concerns itself with player protection, fair gaming and responsible operator conduct. The app and its counterpart online casino is licensed and registered by the Malta Lotteries and Gaming Authority.
Are there other alternatives aside from market apps?
Absolutely. If it is smartphone and tablet real money casino games you are after, look no further than our endorsed and regulated online and mobile casino gambling sites. All of the interactive casinos and their real cash gaming services we recommend on this site (viewable in the tables above) are legally accessible and usable by Australians, and all own fully-fledged and high quality mobile sites, compatible with the latest smartphones and tabs.
These mobile websites are accessible directly via your phone and tablet Web-browsers, and use the latest in HTML5, Flash and Java formatting technology to power smooth, fast, graphically-advanced, and visually and audio-rich games. This type of gaming is called 'instant play' (whether it be via mobile, tablet or desktop Web browsers), because you do not need to install any software and can play high quality and innovative titles directly via the Internet.
While these sites are technically in violation of the Interactive Gambling Act of 2001, the Australian government doesn't seem to be too concerned. There has never been a serious attempt to thwart these operators from offering their real money gaming services to Aussie residents.
More importantly, just like the Regal Vegas Casino app, each operator is licensed by their jurisdiction's gaming authority, and all are checked on a regular basis to ensure their adhere to the strict online gambling standards set by independent testing companies.
What are Web apps?
Web apps are the way of the future. Extensions of mobile Web browser sites, Web apps act in the same fashion as native apps, but use far less disc space and are designed to be compatible across all operating systems.
Utilising browser formatting language mentioned above, such as HTML5, Flash, Java and Silverlight, a Web app will not install any software directly on to your device's hard-drive like a native app, but rather has its content and data processed via a common Web browser (similar to how a non-market mobile YouTube video is rendered).
You can create a casino Web app from its counterpart mobile site by bringing up the casino website on your smartphone or tablet, accessing your in-browser settings, navigating to the 'add to home screen' option, and tapping create.
An app icon will then pop up on your home screen, just like a regular market application, and you will be able to access your chosen real cash gambling platform within an instant, bypassing Web addresses and getting rid of the URL toolbar all together, allowing for more gameplay space.
We discuss Web apps in further detail in our 'How to make an online casino Web application' article.
Which gambling option is best for you?
It all comes down to personal choice. As casual players here at OnlineCasinos.net.au, we prefer the 'instant play' style of gaming, because it is quick, the games are of high quality, no downloads are needed, and we have the ability to create our own unique Web apps, whether they are full casino lobby Web apps, or a specific pokie, roulette or blackjack title Web application.
Within all app options (native, instant play and Web app), financial transactions (deposits and withdrawals) are protected with a minimum of 128-bit SSL digital encryption technology and all personal information and details are not shared with anyone. Safety is paramount for keen punters, so we have made sure all the sites casino applications we recommend maintain strict security measures. Ample AUD-friendly deposit and withdrawal methods exist, such as credit and debit cards, e-wallets, pre-paid card and vouchers and direct wire transfer systems.
Remember to always gamble responsibly, set yourself a time and spending limit, and to enjoy the experience first and foremost. If you have any gambling app related questions, leave a comment in the comments section below, and happy punting.