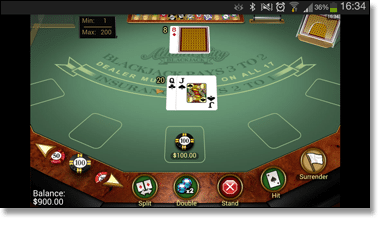 Before we get in to detail about how to make an online casino Web application, let's explain exactly what a Web app is and how it works with a mobile and tablet casino.
A Web app, unlike a typical market (also known as native) app, uses browser-supported programming language such as HTML5, Flash, Java, JavaScript, CSS and Silverlight, to power its intensive audio and visual content and data.
While the app itself does not run directly through the Web browser, the app's software is processed by being downloaded (all or only some parts) from the Internet each time it runs, without actually installing any software on to your device's operating system.
This software is supported by all operating systems with a compatible Web browser, so creating different apps for different devices is not required, an inherent trait of Web apps known as cross-platform compatibility.
A chief benefit of the Web app is its ability to be updated and maintained with ease, without being re-distributed or installed on thousands of different computers, mobiles and tablets – when its fellow website is updated, the Web app automatically updates, too.
Creating a mobile Web app for an Internet casino
Now that we understand what a Web application is, we can explore how to create one for an online casino. Within the settings of your smartphone or tablet's Web browser, you'll find an option to add the current page you are on to your home screen. So, open up any of the following fully-fledged mobile website links on your device, wait for the page to load, and then access your in-browser settings: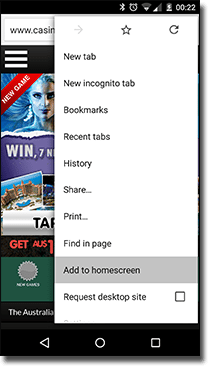 www.Casino-Mate.com
www.GdayCasino.com
www.JackpotCityCasino.com
www.Guts.com
Within the browser settings, navigate to the option which says 'add to home screen'. For any iOS device, this option will be accessible via the button which look like an arrow jumping out of a box. You can either perform this action from the mobile casino lobby website, thus creating a Web app of the entire casino site, or you can choose to perform this action once you have loaded your game of choice, thus creating a Web app of that specific game.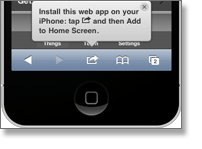 Name the app you are about to add to your home screen and then tap 'add'. The Web app icon will now have been positioned on your home screen, and you can access it immediately, bypassing the Internet and Web addresses. Additionally, the Web app occupies your entire screen, maximising gameplay space (the URL toolbar will no longer be present).
All the gambling sites we endorse are licensed and registered by their jurisdiction's gaming commission, regulated by independent gaming testing agencies which apply strict codes of conduct, and are legally accessible by all Australian residents.
Web apps moving forward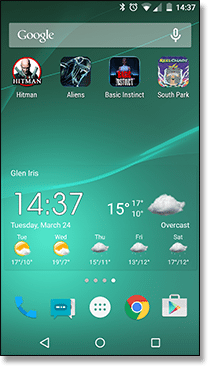 As we move towards a multi-platform landscape, where we are utilising smartphones, Smart TVs, tablets, laptops, Chromebooks, eye-wear technology like Google Glass, iGlass and Oculus Rift, and 3D virtual reality platforms such as Microsoft Hologram, to access the Internet and other services, Web apps are going to become much more viable.
The Web app is designed to operate across all platforms, without the need to create different software for different operating systems (like a native app), so this becomes a major marketing benefit for developers in promoting their applications to the general population.
And with continued mobile Internet improvements being made everyday, as seen with the boom of HTML5 technology, Web applications are now able to showcase brilliant high quality and intensive graphics, visuals and audio within their games and other services.
Additionally, the fact that all media platforms are becoming more intricate, hardware and firmware technology which needs to be installed on such devices also needs to keep pace with these intricacies – Web apps do not need to deal with such complexities, as no hardware or firmware is required.
The future looks bright for Web apps, so design your own casino Web application via any of our recommended mobile links above, and enjoy the rich gambling experience.