When the first online casinos popped up in the mid 1990s, there wasn't a legislative framework to rely on for Aussie players. However, the Australian government moved quickly to regulate online gambling in Australia and implemented the Interactive Gambling Act 2001 as a result. The IGA 2001 allows Australian players to gamble online provided the Internet casinos are operating offshore. So while we can't play at online casinos located in Australia, we can still gamble online without the possibility of punishment. These laws were further clarified with the introduction of the Interactive Gambling Amendment Bill in September 2017, which aimed to close the loopholes in the existing IGA legislation.
We detail what we mean by this and explain everything you need to know about Australian online gambling laws.

Best licensed casinos accepting Australian players
Interactive Gambling Act 2001
The Australian Government passed the Interactive Gambling Act (IGA) in 2001, to target online gambling, and prevent Australian players from accessing internet casinos in Australia. The implementation of the Act had the main aim of preventing players from the negative consequences of online gambling, as well as protecting land-based venues – where the government gains a profit – from players moving online.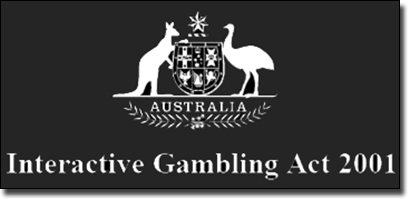 However, Aussie players have been playing at offshore online casinos legally since the implementation of the Act and although it technically goes against the framework of the IGA, since these casinos are located in International waters there isn't anything the government can do. This means Aussie players can technically gamble online legally, with the focus on the casino operators themselves.
Additionally, while the Act prevents Aussie players from playing at Australian-based online casinos, it doesn't stop Australians from establishing online casinos and offering their services to offshore residents. However, the act also prevents advertising real money interactive gambling to Australian players and any Aussie operator caught doing so will receive a penalty of up to $220,000 per day.
Overall, Australians can gamble online but they need to be playing at offshore Internet casinos.
Introduction of the Interactive Gambling Amendment Bill 2016
On September 13 2017, the Interactive Gambling Amendment Bill 2016 was officially implemented in Australia. The Interactive Gambling Amendment Bill was created to close the existing loopholes that allowed offshore casino operators to offer their gambling services to Australian players without any penalties. Amongst other factors, the Amendment Bill was implemented to:
Clarify the services to which the Act applies by recognising prohibited interactive gambling services and regulated interactive gambling services;
Prohibit a person providing regulated interactive gambling services to Australians unless the person holds a licence under the law of an Australian state and territory
Introduce a civil penalty regime to be enforced by the Australian Communications and Media Authority (ACMA)
Establish a register of eligible regulated interactive gambling services to be published on the ACMA website
It is important to note that Australia does not currently issue online casino licenses, so the wording of the Amendment Bill technically means there are no online casinos with official licensing to service the Australian market. It will remain this way unless the government makes any progress towards regulating the online gambling market in Australia, in a similar fashion to the United Kingdom.
The IGA Amendment Bill has led to many of the leading online casino brands and software developers pulling out of the Australian market, but there are still several top-rated casino sites who have made it clear they will continue to accept Australian players. These operators do so at their own risk, but there is nothing in the IGA amendments that says it is illegal for Aussie players to continue to play at these sites.
In summary, Australians can continue to play for real money online but with fewer safe choices. It is more important than ever for Aussie punters who choose to play online to make sure the site they are playing at is legally licensed by a trusted international jurisdiction, is protected by SSL security measures and offers deposits and withdrawals using trusted payment options.
Offshore online casinos
While offshore online casinos can sound somewhat dodgy, there are many which are reputable, secure, and safe for Aussies to play at.
An offshore web casino is located overseas, many of the leading ones are in the United Kingdom and Malta, and thanks to the Internet, these sites accept players from around the world.
Unfortunately, many rogue operators have established online casinos to target vulnerable players and steal their money – and since we are located in Australia with no real regulation of international online casinos to protect us, it feels as though there is nothing we can do.
However, there is something we can do – play at verified and reputable offshore Internet casinos. These are governed by respectable jurisdictional licensers who have put the sites through an intense investigation to ensure they are operating under strict laws and regulations. They then offer their logo for the online casino to display to confirm the site is indeed safe.
We have a list we recommend – each governed by respectable jurisdictional licensers – which offer online pokies, progressive jackpots, table games, all which are safe for Aussies to wager with real money on.
Mongoose Casino
Raging Bull
Mucho Vegas
Aussie players can play at each of these sites without penalty and if any problem arises they can contact the top customer support via email, phone, and more, which each online casino offers.
Online gambling Australian state law
Each state and territory in Australia have their own legislative framework in which they adhere to.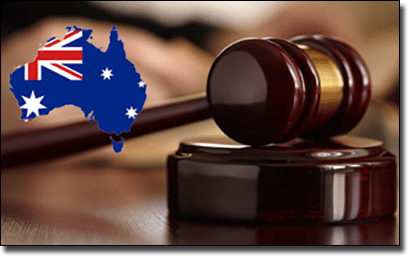 The legislative frameworks for each state and territory are as follows:
Australian Capital Territory – ACT Gambling and Racing Commission
New South Wales – Office of Liquor, Gaming and Racing, as well as the Independent Liquor and Gaming Authority
Northern Territory – NT Licensing Commission
Queensland – Office of Liquor and Gaming Regulation
South Australia – Independent Gambling Authority, as well as Consumer and Business Services
Tasmania – Tasmanian Gaming Commission
Victoria – Victorian Commission for Gambling and Liquor Regulation
Western Australia – Department of Racing, Gaming and Liquor
However, since Commonwealth laws overrule state and territory regulation, the IGA 2001 overrides any legislative framework and therefore states and territories in Australia don't have much say when it comes to the regulation of online gambling.
Summary of Australian gambling laws
We've summarised the legislative framework surrounding online gambling and Australian players.
Legal age to gamble online is 18 (as it is at land-based venues) irrespective of whether you are playing at offshore online casinos
Operators can request proof of age – ID, passport etc.
The IGA 2001 governs all state and territories and is the main framework for online gambling
Australian players can gamble at offshore online casinos without punishment, although technically the casino operators themselves are in violation of Australian law
The government has not imposed any penalties for Australian residents who continue to play at online casino sites
Aussie players can gamble on pokies, progressives, table games, casual games, live dealer casino games, and more online legally, provided the casino has a license from the Australian government (no current licenses exist) or the casino is licensed overseas
Aussie players can't gamble at online casinos operating within Australian borders
Australia's online gambling laws can be confusing. We here at AustralianCasinoSite.com aim to provide the most accurate information about Australia's gambling laws as possible – we keep our finger on the pulse of emerging news stories to keep our readers up to date, so feel free to bookmark this page to stay in the loop of any legislative updates as they arise.
Want to play at a safe and licensed site that legally accepts Aussie players? We recommend Emu Casino where new players can claim a 100% matched deposit bonus up to $300