Doubling our life savings is a dream come true, but to do so at a casino is a risk not many are willing to take. While we all enjoy a bet or two at a land-based or online gaming establishment, we keep our bankroll within reason.
However there are a select few out there who have made some of the biggest bets in history and we have their stories. Additionally, we have thrown in some of the biggest wins at online casinos to give hope to those who aren't willing to gamble their mortgage.
Best online casinos to place big bets
Casino
Bonus
Games
Pokies
Signup
The biggest bet in casino history
William Lee Bergstrom, an infamous Texas gambler, is known as the man who put the biggest bet on in casino history.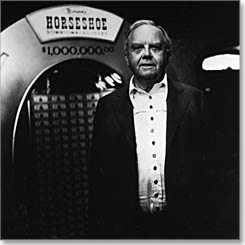 In 1981, Bergstrom walked into the notorious Horseshoe casino with a suitcase (which is when and where he coined his nickname The Suitcase Man) filled with $777,000 (worth over $2 million today). He placed the entire amount on the Don't Pass line bet on a craps table and won.
But this wasn't the biggest bet Bergstrom ever placed. In 1984, he returned and placed series of bets including a whopping $1 million (just over $2.2 million today) on the tables, but unfortunately lost. Regardless, this bet remains to be the biggest bet ever in casino history.
Large casino bets using basic blackjack strategy
This high roller has proven following the basic strategy of always splitting eights in the game of 21 can pay off, and had so much faith he wagered a massive $800,000 on it.
Don Johnson entered the Atlantic City Tropicana casino in New Jersey, in March 2012, and ended up wagering $800,000 on two pairs of eights after splitting and doubling down.
Johnson was dealt two eights, a pair that the basic strategy advises to split no matter what, which Johnson did, betting $100,000 on each. Surprisingly, his next two cards were two more eights, which he split too. Here, he had four hands, each amounting to eight, and each with $100,000 on them.
With the dealer's up card amounting to five, Johnson hit on all four cards and was dealt a three for one of his eights, a two for his second, another three for his third, and another two for his final eight. He chose to double down on all four hands, with each wager totalling $200,000. This totalled a whopping $800,000 for his four hands.
The dealer drew a 10 to go with his five, totalling 15, and Johnson decided to stand. The dealer then drew a 10, busting, and Johnson won all four of his hands.
Johnson kept playing and overall that night won $6 million on blackjack.
Balvinder Samhi's cleans up at roulette
In 2009, Balvinder Sambhi, from Birmingham in the UK, won £28,000 with his own no-lose system he had spent years perfecting for the game of roulette. He contributes the win to a fairly large bankroll for the system to work.
While he was banned from the casino he won at, it wasn't long until he released his own book titled 'Breaking the Roulette Wheel' which details his system.
Here's a summary of how it works and it is once again important to note a $2500 bankroll is required for this to work, starting with small bets and increasing in small increments to big bets;
Step one: Wait for 12 consecutive spins to occur without the numbers eight, nine, 11, 12, 26, 27, 29, and 30 appearing.
Step two: Once this occurs, put two corner bets on the above eight numbers (one on the first four numbers and another on the last four numbers) using a 28 step betting progression, with the first bet beginning at 10 cents and the 28th bet ending at $300.
Some have tried and tested this system claiming it didn't work for them, but Sambhi sticks to his story that he wins from system – as you would when you have a book for sale.
The biggest bitcoin casino bets
Over the course of a single weekend in 2013, an online casino player won 11,000 bitcoins, which is about about $1.3 million by betting big and rapidly.
Known only as his online casino alias, Nakowa, the player took out the massive win but not before he lost a fair few times at Just-Dice, which is an online gambling site featuring dice games available to be played in Bitcoin.
The player lost around $111,000 during his losing streak at the start of the weekend, but when he did start winning the site's funds began to drain quickly. Nakowa bet from 100 to 300 bitcoins ($12,000 to $36,000) repeatedly over the weekend and won around 1000 bitcoins ($123,000) in just 10 rolls.
Nakowa's activity was monitored by players everywhere, one player even created a Twitter account to alert others when Nakowa was online (they knew due to the player making large and rapid bets).
At the end of the weekend Nakowa won the whopping 11,000 bitcoins and while many question if the anonymous player is a genius or a cheat, it can be certain making rapid and large bets on this site worked for Nakowa.
The massive win saw investors unhappy and left the site with just 2000 bitcoins ($264,200), meaning they had to tap into the sites savings account to continue operating.
Biggest roulette bet on red
Ashley Revell headed to Las Vegas in 2004 with his entire life savings, which was approximately $135,500. He sold his car, house, jewellery, trophies, and even his clothes to create the six digit bankroll.
Instead of wagering it on a strategic table game, and over a series of bets, Revell walked into the casino, headed straight to the roulette table and bet the entire amount on red. Additionally, Sky One had heard about Revell's plan and decided to make a mini-series, so on top of the pressure of risking his entire life savings, Revell also had an audience of millions of people. Shockingly, and luckily for Revell, he won.
While it doesn't seem like such a large bet in comparison with some of the many we have detailed here, it definitely was the riskiest.
Biggest online casino wins
While we have taken a look at some of the biggest bets, we wanted to also touch on some of the biggest wins online for those who don't have the funds to bet big, but still want to win big.
The largest mobile Net Entertainment win: In January 2015, a Swedish player won a whopping €5.7 million on his smartphone on a Net Entertainment progressive, making it one of the biggest wins on a mobile device for the software developer.
The win took place on the progressive video slot Mega Fortune Touch, which is the mobile version of the Mega Fortune title (though the jackpots are all connected despite the platform), at Leo Vegas online casino. The player didn't have to bet big, winning with just a single bet.
Additionally, this was the second player to become a millionaire at Leo Vegas Internet casino, one of our favourite online gaming establishments. The first win, in 2014 saw a player win €2.4 million on the Mega Jackpot progressive.
Biggest progressive slot win
In January 2013, a player managed to make both the Guinness Book of Records, and walk away with €17,861,813. The Finnish player won on the same Net Entertainment Mega Fortune slot we discussed above, which is an indication that if you haven't checked out this progressive yet, you should now.
Additionally, this win took over the previous world record which was the €11,736,375 jackpot won by a Norwegian man in 2011 on the same progressive.
Mega Moolah – The millionaire maker
Mega Moolah, the infamous Microgaming progressive, has made more millionaires than any other progressive online. With around 25 winners becoming millionaries, it's no wonder Mega Moolah is the most popular jackpot online.
The latest win on Mega Moolah saw a player by the alias of Mark. A win CAD $7,565,091.94 on his smartphone in April 2015.
If you can't bet big in a land based casino, check out the aforementioned online progressives at our recommended online casinos for your best chance at winning big online. Sign up at Mucho Vegas Casino to claim free spins, matched deposit bonuses and more rewards upon making your first few deposits.