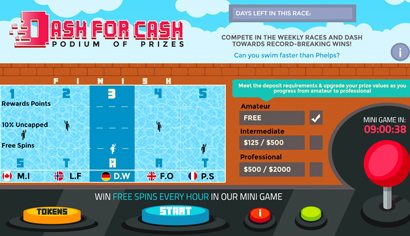 THINK you have what it takes to outrun Usain Bolt?
Join in Royal Vegas' Dash For Cash promotion throughout August and win daily cash prizes valued at $160,000.
Royal Vegas is celebrating the 2016 Rio Olympic Games from August 1 to August 31 with a host of weekly mini-games that you can enter to win free spins, online credits and cash prizes.
The Dash For Cash promotion will feature four races across the four weeks, with one winner crossing the finishing line for the epic major prize. Do you have what it takes to take out the Gold?
How To Enter
Visit www.RoyalVegasCasino.com and log in during the promotion period. Sign up for the $1,400 AUD + 40 free spins Welcome Bonus.
Look for the "Instant Prize" message in the lobby.
Select "Ready. Set. Go!" to enter into the running and participate in the four sporting events.
Take part in the mini-game to win Free Spins, Free Credits and Rewards points every hour throughout August.
Play The Mini-Game
Every week for the month of August, you will be able to play the Dash For Cash mini-game, in which you can win a prize. To play, all you need to do is meet the deposit requirements and upgrade your prize value from "Amateur" to "Professional".
The deposit requirements are as follows:
Amateur – No deposit
Intermediate – $125-$499
Professional – $500-$2000
The prize value progresses as you work your way up the ranks from Amateur to Professional.
Each mini-game will be open for 2 days a week and will be played every hour. A new game will kick off the following week, with a game a week for four weeks. That means you can play in as many as 192 mini-games!
The weekly activities are:
Week 1: 100m sprint
Week 2: 100m Swim
Week 3: Cycling challenge
Week 4: 100m Hurdles
As you play you will accumulate tokens. Once the two days have elapsed and a mini-game ends, you'll be able to redeem your tokens for Free Spins on Rabbit In A Hat, or free credits.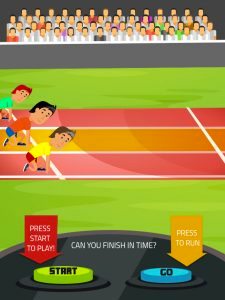 Earn as many tokens as you can by playing every hour
On the promotion page, click the "Tokens" button to see how many Tokens you have earned.
The prizes earned from tokens are as follows:
2-9 Tokens – 5 Free Spins
10-15 Tokens – 10 Free Spins
16-21 Tokens – 25 Free Spins
22-27 Tokens – 40 Free Spins
28-33 Tokens – 55 Free Spins
34-42 Tokens – 70 Free Spins
43-48 Tokens – 100 Free Spins
49+ Tokens – 150 Free Spins
How to become Dash For Cash champion
Play all four weekly events from August 1 to August 31
Earn rewards to boost your performance in the next race
Unlock daily prizes