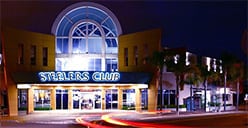 A New South Wales pokies venue, owned by the Illawarra Steelers, has been fined $100,000 for various infractions of the gambling regulations.
The former secretary of the club has also received a lifetime ban for their involvement in the incident, which resulted in the biggest ever fine handed down to a registered club in NSW.
This comes after an investigation into activities of the venue revealed management offered gamblers incentives like alcohol and cash advances to encourage more gambling.
According to the Independent Liquor and Gaming Authority (ILGA), the violations were "serious and systemic" and risky to customers.
READ: GUIDE TO AUSTRALIAN ONLINE CASINOS
The life ban on the secretary, Scott Miles, which is the first of its kind prevented him from holding any future position in the clubs sector. He is also serving a minimum two-years in jail for stealing $1 million from the club.
The investigations, done by Liquor & Gaming NSW also discovered that the former secretary planned several other serious infractions of gaming machine regulations.
During the investigation, employees at the club revealed orders were given to them to serve free alcohol to the gamblers as a form of inducement. They were also asked to run fake EFTPOS transactions disguised as purchases to supply cash for playing poker machines.
A doorman at the venue, James Summerell, indicated he was asked to organise various levels of transactions with some amounting to $40,000. He told the investigators that some players requested "$5000 in purchases" between four or five times a night.
"Mr Miles would say, 'We can't afford to lose this kind of patron, we need to keep doing what we're doing'," he said.
The duty manager of the club, Graham Crittenden stated Mr Miles ordered him to extend credit to particular members through the EFTPOS system. He said the customers would "ask for a certain amount, and it would be done on a credit purchase".
Some anti-pokies campaigners are calling for the resignation of the chairman of Steelers, Peter Newell after the scandal broke. Newell is also the chairman of Clubs NSW and president of Clubs Australia.
Director of The Alliance for Gambling Reform Tim Costello said the revelations of several breaches by the club are one of the most worrying he had witnessed in the poker machine industry.
"If there is to be any boardroom accountability for these disgraceful practices, then the chairman of the board should resign," he said.