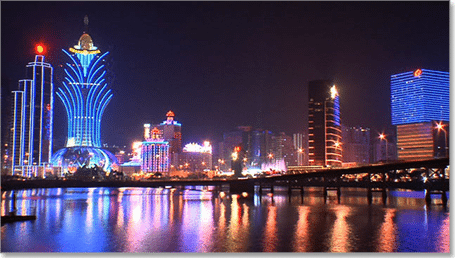 Macau is considered China's version of Las Vegas and is bigger in a monetary sense. Macau is also the only city in China which legally allows gambling so you can imagine it is fairly popular within the country. Not only that, it is one of the most popular destinations for gambling in the world even overtaking Las Vegas which is quite hard to believe. Offering 24 hour gambling, seven days a week, the beautiful casinos which line Macau have surpassed Las Vegas's casinos years ago in terms of both popularity and economically, making five times what Las Vegas casinos do annually.
If you consider yourself a serious gambler, Macau is one destination you need to add to your bucket list. If you have planned a trip and managed to surpass the heavy travel travel restrictions and found yourself in the beautiful city of Macau, you will need to know where to play. We have found the five best casinos in Macau for you to experience, and even offered a solution for those who can't make it, but want to experience the best gaming in the world from the comfort of your own home.
Grand Lisboa
We begin with one of the best casinos in Macau for poker, because at the end of the day it is about the games and not the appearance (though it doesn't hurt to detail the shiny things). So for the poker enthusiasts your first stop should be the Grand Lisboa. The Grand Lisboa's poker room is considered to be one of the best poker rooms in Macau as it hosts the biggest tournaments in Asia. So if you if you want to come and watch how the professionals do it, and even pick up a few strategies this is the best casino for it, especially since it was the first one to add the poker variant Texas Hold'em to their gaming tables (it was also the first casino in Macau to offer craps too).
Or if you think you are game enough, you can even join in on the poker fun and play against some of the best poker players from around the world. If you aren't one for poker, the casino boasts around 800 gaming tables and 1000 slot machines so you will find something to suit your interests. This casino is best for the serious gambler who is after a no frills experience. Additionally, we recommend signing up to the members club here if you are planning to stay a while as they offer one of the best rewards program in Macau.
Venetian Macao
Want to go to the biggest casino in the world? Well this is it. The Venetian Macao is 550,000 square feet (this is just the casino and not the hotel and retail section included) and seems to attract a large array of celebrities, who both perform here and even play here too. It is also considered to be the largest hotel with a single structure in Asia.
If you are a big fan of slots you will be spoilt for choice with around 3400 slot machines lining the floors. They also have 800 tables and a 15,000 seating arena for when these special events such as Beyonce or a basketball game featuring Kobe Bryant come to town.
The best part of this casino is probably the canals of Venice which have been recreated indoors. This is definitely something to check out though it tends to attract quite a number of tourists. If you are after an entertaining evening, rather than an intense gambling night then this casino is for you, otherwise it might just be best to pop in, take a look at the aesthetics and keep on moving.
Galaxy Rio Macau
If you spent most of your money on just getting to Macau than you won't be too interested in casinos which offer high minimums. Luckily there are casinos in Macau which offer lower stakes and this is one of them. This casino is generally where the locals hang out and it tends to be a male-dominated crowd. The lower-stakes means less intimidation and due to its smaller size it tends to be more intimate.
So if you don't want to be overwhelmed by the atmosphere or the aesthetics, or even the crowd, this one is worth checking out. There isn't a whole heaps of gaming tables like the aforementioned, but this is generally why it will keep the tourists sticking to other casinos meaning you won't have to find a table which isn't over-crowded. Overall, this casino offers quite an elegant gambling experience one of which is located in downtown Macau. Additionally, this casino also has an artificial beach with a wave pool so if you're an Aussie who tends to get homesick, staying here might ease the pain.
City of Dreams
This is the second biggest casino in Macau next to the Venetian, but we don't like this one for size, rather we like it for the entertainment value, along with the gaming offered. Boasting 1391 slot machines and 430 gaming tables, this casino prides itself on offering a gambling experience with a large side of entertainment.
Featuring a show which seems like it came directly from Vegas known as 'The House of Dancing Water', spectators get to see an amazing performance around a stage pool which is the size of five Olympic pools put together. With high dives, motorbike stunts, and more, this is a show not to be missed. City of Dreams also hosts a number of other attractions such as the 'Dragon Treasure Show' costing $40 million to create. This show offers a 360 degree experience of dragons breathing fire and smashing through ice, and isn't something to be missed during your time in Macau.
Additionally, the rooms are quite interesting with a rock feel to them in the Hard Rock hotel side (there is also the Crown Towers and Grand Hyatt). The pool also offers underwater rock tunes with a swim up-bar to frequent in your downtime away from the casino floor.
The Wynn Macau
If table games are incredibly important to you, the Wynn Macau is said to have some of the best blackjack and baccarat tables in the city. While this casino is similar to what you may find in Vegas since it is styled quite similarly, it actually offers a better house edge for some of its most popular games.
Featuring 465 tables games and 624 slots, you won't find yourself lost in a sea of pokies at this casino as you would at the aforementioned. The Wynn offers the lowest house edge, of only 0.09%, for blackjack in Macau, provided you're experienced and know the basic strategy. The Wynn offers good rules including surrender, double down, re-split and more making the game quite reasonable in terms of the player.
Baccarat is another popular game in Macau and the Wynn offers a 1.02% house edge on both player and banker bets, with the two paying even money as opposed to the baccarat banker bet having a 1.06% house edge and the player bet having a 1.26% house edge in standard game in Vegas or Australia. So if you are after a stylish and sophisticated casino with low house edge on their table games this casino is a good option.
Get the Macau experience online
For players who can't afford to go to the beautiful city of Macau, or would rather spend it gaming online, then we know just how to create the Macau experience in your living room. BGO online casino offers a section known as BGO Macau, where players can access an array of live dealer titles, and while they aren't streamed directly from Macau, these titles are of top of their class and have been titled in reference to how Macau is at the top of its class in the casino world.
In a press release, BGO Entertainment stated they chose to call their live dealer section Macau because of the popularity of Macau's casino environment. Here you can find live dealer's streamed in high-definition directly to your screen offering games such as live roulette, live blackjack, and live baccarat. These have quite a low edge so you could almost pretend you're playing at the Wynn, without having to dress up to fit in.