French roulette may be rare in most land-based casinos, but it's still an immensely popular game among high rollers, and as such is often found in high-stakes rooms. It's also incredibly easy to find online, and offers among the more unique experiences among the different roulette variants.

Best online casinos for French roulette
French roulette: What makes it different?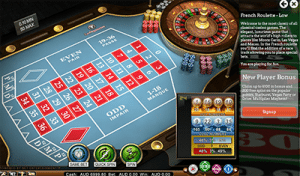 French roulette is a roulette variant that is almost indistinguishable from its European variant counterpart. There are a few aesthetic differences however, not to mention some alternative betting options and a lower house edge of 1.35%, well below American roulette's 5.26% and European roulette's 2.7%.
As you can see, the lower house edge probably explains why French roulette is so hard to find in land-based casinos. Thankfully, it's available across a number of online casinos, including those we recommend.
One of the more noticeable differences in French roulette next to European roulette is that the betting field is split in two along both sides of the table layout. This introduces a number of different bets, including some bets unique to the variant, including La partage, En prison and Voisins du zéro.
The playing odds for French roulette are as follows:
Odds and evens – pays 1:1
Red and black – pays 1:1
Lows and highs (1-18 and 19-36) – pays 1:1
Dozens – pays 2:1
Columns – pays 2:1
Six line – pays 5:1
Corner – pays 8:1
Street – pays 11:1
Trio – pays 11:1
Split – pays 17:1
Straight – pays 35:1
French roulette betting layout
Some of French roulette's rules allow for that lower house edge, namely the en prison and la partage rules. The core fundamentals remain essentially the same: set your betting wager, choose your numbers and/or outside bets, and hope the ball lands on a number and colour corresponding to your wager.
Dozen bet:On the French roulette table, dozen bets are placed on 12P for numbers 1 to 12, 12M for numbers 13 to 24, and 12D on numbers 25 to 26. In European roulette, these bets are marked as "1st, "2nd" and "3rd", respectively.
Low/High: Manque (1-18) and Passe (19-36) make up Low or High bets, respectively.
Where French roulette breaks away from other roulette variants is with other rules that ultimately assist in bringing the game's house edge down to such player-friendly levels.
La partage: If the ball lands on zero, then all even-money wagers are split, with half the initial bet being returned to the player.
En prison: This is similar to the above rule, but differs in that players can choose to keep the bet "in prison" and active for the next spin. If the ball lands on zero on the second spin, however, the bet is lost.
French roulette also has "Call bets", which are special bets that players must call out.
Voisins du zéro: The "neighbours of zero" bet uses nine chips to cover 17 numbers that sit closest to zero on the wheel: 22, 18, 29, 7, 28, 12, 35, 3, 26, 0, 32, 15, 19, 4, 21, 2 and 25.
Le tiers du cylindre: Six chips are used to cover 12 months that sit far from zero: 27, 13, 36, 11, 30, 8, 23, 10, 5, 24, 16, and 33.
Orphelins:"Orphan" numbers, as they are called, cover two small segments that sit outside the Voisins du Zero or Tiers du Cylindre regions. One one side is 9, 31, 14, and 20, with 17, 34, and 6 on the other.
Jeu Zero: This covers two numbers that sit to the zero's right (32 and 15), and four numbers to the zero's left (26, 3, 35 and 12. The 26 offers a 36:1 payout, while all other numbers offer 18:1.
Online French roulette games
All of our recommended online casinos offer a varied and wide selection of roulette variants, including French roulette, making online casinos the best (and in some cases only) place to play the game. Many of the games are optimised for mobile play. Here are the games available:
Microgaming: French Roulette, Premiere Roulette
NetEnt: French Roulette – High Limit, The French Roulette, French Roulette Pro
Play'n Go: French Roulette
All of the above games can be played directly in your web browser for instant-play, with no software downloads required. You can also play for fun as with all other single-zero roulette variants.
Mobile French roulette games online
All of Microgaming's and NetEnt's French roulette games can be played directly on mobile, compatible with all data-enabled iOS or Android devices, simply by bringing up your web browser and loading the game. Simply flip your device horizontally, and the casino will automatically recognise the device that you're playing on.