In this article we'll cover the basics of American roulette, also known as double-zero roulette, and what you need to know before jumping in.

Best online casinos with American roulette
While European roulette is the preferred roulette variant among players, American roulette is a commonly-played and featured game in both land-based and online casinos. Its extra pocket gives it a higher house edge than European single-zero roulette, but the double-zero alternative still offers the excitement that players have come to expect from the game.
American double-zero vs European single-zero: What's the difference?
It's no secret land-based casinos and even some online casinos prefer American double-zero roulette to European single-zero roulette. The reason is simple: American roulette has a higher house edge, making it a far more lucrative game for the casino than European roulette. The downside for players is your chances of winning decrease, but your potential winnings stay the same, so you're taking on more of a risk but without the added benefit.
To the untrained roulette player, the difference between American and European roulette may seem negligible. However, that subtle difference is what equates to a higher house edge, so the bigger picture is the two versions are more different than they seem. The European roulette wheel's single zero and total of 37 pockets keeps the house edge at an attractive 2.63%, while in American roulette the additional zero and 38 numbers sees the house edge skyrocket to 5.26%. As you can see, the one extra zero makes a whole lot of difference.
This is why European roulette is favoured by players the world over. American roulette is common in the United States and is the preferred table game in land-based Australian casinos, but it is mainly due to a lack of choice. If you're looking to have some fun playing roulette – and the American variant is all which is available – there are plenty of great bets to ensure you get the most out of your time playing.
American roulette betting layout and wages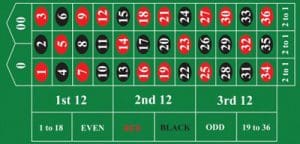 Playing American roulette is simple: choose the amount you want to wager, place your chips on the desired pocket on the table, watch the ball spin and, hopefully, celebrate your win. There are multiple bets available to you, from betting on individual numbers, to betting on a trio of numbers, to outside bets covering colors, dozens and columns.
Inside bets
Straight-up – A bet on any individual number, including the 0 and 00.
Split – A bet placed on two adjacent numbers, including 0 and 00.
Street – A bet on a "street" of three numbers.
Corner – A bet on four numbers placed on the corner where the four numbers meet.
First Five – A bet covering 1, 2, 3, 0 and 00.
Line – A bet placed at the end of two rows, covering 6 numbers.
Outside bets
Column – Covers an entire column in the "2:1" box.
Dozen – Covers 12 numbers across the thirds (1-12, 13-24, and 25-36).
Colour – A bet on red or black.
Odd or Even – A bet on odd numbers or even numbers.
High or Low – A bet on either low numbers (1-18) or high numbers (19-36).
Types of online American roulette
Our recommended online casinos offer a fantastic selection of roulette games, including American roulette, European roulette, and French roulette. Many of these games are optimised for on-the-go gaming on your mobile, and are browser-based for fast, no-download play.
Here are the different versions of American roulette you can find at our recommended online casinos.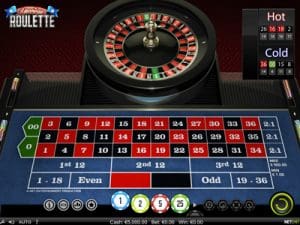 Microgaming: American Roulette
NetEnt: American Roulette
BetSoft: American Roulette
All of these games are instant-play, meaning you can load them up with no download directly in your web browser. Each of these games can be trialled and played for fun before jumping in and wagering.
Mobile double-zero roulette games
With roulette being as popular as it is, mobile casinos tend to always offer a mobile version of American roulette. Versions available from Microgaming, NetEnt and BetSoft can all be played within your browser on Android and iOS devices, without having to download additional software. These games are played in landscape mode, so you'll need to make sure your mobile device has screen rotation switched on.
These mobile versions work on most popular devices, including the latest iPhones, iPads, and Android-based smartphones and tablets.
American roulette house edge and payouts
The house edge in American roulette is 5.26%. This means for every dollar you bet, you stand to get back about 95 cents in the long run. The house edge is ultimately how the casino makes a profit: it represents the percentage profit it makes on a bet over time.
There's a variety of bets you can make in American roulette, some better and more lucrative than others. This roulette variant actually has the worst bet across all versions of roulette: the Five Line bet. It's a bet which is only available on American roulette tables and includes 0, 00, 1, 2 and 3. It offers an attractive payout of 6/1, but with a house edge of 7.9% has the worst odds of any bet in the game.
Here's what you get back for every winning bet in American roulette.
Straight – Pays 35:1.
Split – Pays 17:1.
Street – Pays 11:1
Corner – Pays 8:1
First Five – Pays 6:1
Line – Pays 5:1
Column – Pays 2:1
Dozen – Pays 2:1
Colour – Pays 1:1
Odd or Even – Pays 1:1
High or Low – Pays 1:1
Where can I play American roulette online and mobile?
As mentioned earlier, all of the online casinos we list in our tables and recommend across this website host American double-zero roulette, playable for real money or free-play (practice mode). All casinos host instant-play American roulette (also known as no-download or browser-play) which means you can access your favourite double-zero roulette titles through your Web browser without the need to install additional software or apps on your computer or mobile device. For a list of the best online roulette sites, refer to our casino table at the top of this page.