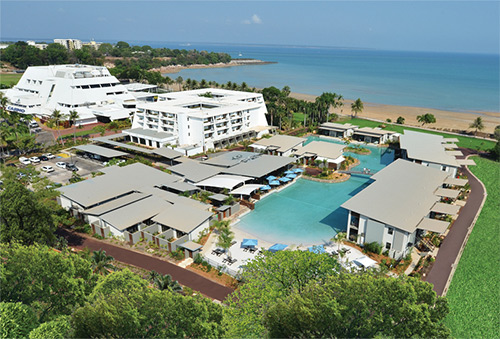 Delaware North, an American hospitality company, has purchased the SkyCity Darwin casino and resort complex for AU $188 million (US $137m).
SkyCity Entertainment Group – which also runs casinos in Adelaide, Auckland, Hamilton and Queenstown – bought the Northern Territory property for $195m in 2004.
A recent report in the Australian Financial Review put the venue's value as high as $250m.
"I'm really pleased that following a very competitive tender process Delaware North had emerged as the successful bidder," said Graeme Steven, CEO of SkyCity Entertainment.
READ: MORE GAMBLING NEWS
"They are a highly respected and well-established hospitality and gaming company and I'm very comfortable handing over the business we have built up over the past 14 years to an operator of this calibre."
The deal does not include ownership of the waterfront property at Mindil Beach, which is expected to go on the block as a separate entity.
Stevens added that the sale of SkyCity Darwin would allow the company to put more time and resources into Adelaide Casino, which is in the midst of wide-ranging renovations.
"The sale is consistent with our 'capital lighter" strategy to sell non-core assets and to allocate capital to assets and business which we feel are aligned with our long-term strategic objectives," he said.
"It also allows us to concentrate our Australian activities in Adelaide, which is undergoing a $330m expansion."
Lou Jacobs, co-chief of Delaware North, said the purchase was a natural fit for a company that already has strong ties with the Australian hospitality sector.
"Australia has been a second home for Delaware North for 30 years," he said.
"We are thrilled to have grown our business into a diversity of operations across the country, which has been possible because of our incredibly talented and diverse workforce of more than 10,000 people.
"With SkyCity Darwin, we are expanding our presence in the gaming and entertainment market.
"We look forward to working with SkyCity Entertainment Group to welcome their employees at SkyCity Darwin to the Delaware North family."
The agreement now awaits the green light from Natasha Fyles, Attorney-General of the Northern Territory.