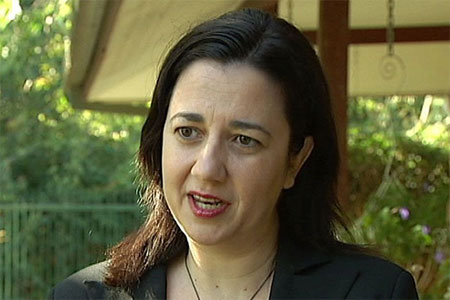 Queensland Premier Annastacia Palaszczuk has declared that while she does not support a statewide ban on pokies, she would like to see fewer machines in operation in the future.
Gamblers in the Sunshine State have spent more and more on pokie games every year since 2010, culminating in a record $2.4 billion loss in 2018.
There are growing calls for gaming machines to be phased out of Queensland's pubs and clubs, most notably from Greens MP Michael Berkman.
However, Premier Palaszczuk is more concerned about how the government deals with the inevitable transition from on-site play to online gambling.
"It is about how you keep up with that technology," she said.
"I would actually like to see in the future that we actually have less pokies in Queensland.
"I think we're all aware that there are some issues associated with people who do get addicted to gambling and we do have funding set aside for that."
Palaszczuk's refusal to commit to a total ban on pokies is not surprising when her administration has shown plenty of support for the casino industry.
Raging Bull Casino
50FS
350% deposit bonus + 50 free spins
read review
Bet Now
Construction is already underway on a new gaming and entertainment complex at Queen's Wharf in Brisbane, while there are plans for a second casino on the Gold Coast.
However, the Premier said she was hoping to green light the proposed Southport casino without increasing the net amount of poker machines in operation.
That could mean reducing the number of pokies allowed at other licensed gaming venues, which stands at 24,705 in clubs and 19,500 in pubs.
Tim Costello, leader of the Alliance for Gambling Reform, wants Queensland to further restrict pokies numbers and also reduce maximum bets, shorten trading hours and amplify the authority of local councils.
"Imagine how many more jobs and economic activity could be generated if $2.4 billion a year wasn't being wasted on thoroughly unproductive poker machines," he told reporters this week.
Pokies generate hundreds of millions in tax revenue for state governments, with Queensland pocketing $718 million in 2017-18.