Aussie players after informative information regarding sic bo, how to play the game, and where to play it with real money, have come to the right place with our team detailing the ins and outs of the intriguing dice game.

Sic Bo online casinos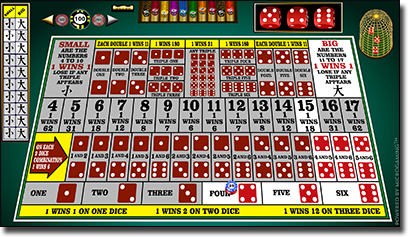 Sic bo is a hidden gem in the typical online casino games catalogue. While not as popular as the common blackjack, roulette, and baccarat titles, it's a fun real money game in its own right with a rich history.
Where to play Sic Bo for real money
Online casinos vary in software providers, with some being one software developer specific and others opting to utilise a multitude of developers. Regardless, it's important not to settle for an online casino because they offer the variant of sic bo you are after, but to make sure you are playing at a trustworthy and reputable site which is regulated.
Our recommended Internet casinos have been chosen by our team due to their stellar reputation and regular reviews by third party organisations which detail safety is paramount. Although sic bo isn't available everywhere, it can be found at our top picks, listed in the tables above.
For Microgaming sic bo, visit Casino-Mate and Royal Vegas.
For Playtech sic bo, none of our recommended online casinos currently offer this title, but since it offers lower payouts, it might be best to pick the Microgaming title anyway.
For the Triple Chance Hi-Lo title, head to Slots Million.
How to play sic bo on the Net
As mentioned above, there are many variations to sic bo and thus there are many variations to the rules. We have included the basic rules so we can explain to how to play online, though if you are playing a variant it's important to read the rules and instructions attached to the game prior to wagering real money.
Playing sic bo is quite easy as it doesn't involve a specific strategy to lower the house edge or make the game last longer. All you have to do is place a bet or multiple bets on the table layout; the dice is then rolled and you can collect winnings if you have indeed won.
Going online means the layout is virtual and these graphics can vary from one software provider to another, but they are clearly detailed as to what is what in terms of betting areas on the layout.
Place your bets, and then click 'roll' on your virtual interface and the dice will roll with the outcome shown on the screen as well as announced via audio if you are playing live dealer sic bo.
While gameplay is very straightforward, there are a number of bets involved when playing the game.
Common sic bo bets
These are the most common bets available for players and are recommended if you are just starting out. If you're experienced, players can make multiple bets or even dabble in the more advanced and uncommon bet types, but for now we will focus on the following. Variations can occur, as can rules, so it's important to note the bet types may not always be the same – these are the most common.
Small or big – Small or big bets are the two of the most popular bets with the small wager seeing players bet that the total of the three dice will in total be less than 10 but more than four, with a payout of 1:1. The big bet sees players wagering that the total will be more than 11, however less that 17. It also pays 1:1. Even if you have predicted the right outcome for both of these bets if a triple is rolled, which is a bet we will highlight below, you will lose in most sic bo variations; however, this rule can be excluded.
Even or odd – This bet is very similar to roulette in that players can predict the total will either be even or odd. Once again, if a triple is rolled, players lose regardless if they predicted the right outcome. This bet pays 1:1 too.
Toal sum – Players can wager what the exact total of all the three dice will be. As you can imagine, this bet pays very well as the odds are quite large. There are many outcomes, but we have found the best bets in association to their payouts for players to try.
Four or 17 pays 50:1
Five of 16 pays 18:1
Six or 15 pays 14:1
Seven or 14 pays 12:1
Eight or 13 pays 8:1
Nine, 10, 11, or 12 all pay 6:1
For these payouts you can't bet on both or all, such as seven and 14 to get 12:1 odds; rather, you have to bet on the single bet such as the total being 14. You can bet on both though, by doing two bets if you wish.
The triple bet – As mentioned above, the triple can cancel any wins even if the bet outcome was correct, provided this rule is enforced in the variation you are playing. It refers to all three dice being the exact same numbers in one roll. For example, players can bet on all three dice being fours – or 444. It has a high payout of around 150:1, but can be higher depending on the variation, with the reason it being so high reliant on the fact that the chances of winning this bet are quite unlikely.
Any triple bet – If you don't think the enormous odds of landing the triple bet are worth it, there is the any triple bet which is similar but with a better chance of winning. Players bet on any triple numbers being the outcome rather than three specific numbers. This has a payout of around 24:1.
strong>The double bet – This is just like the triple bet, but players are betting two of the three dice will have the same numbers on them. This pays around 8:1.
The exact double numbers – Players can pick the exact combination on the dice of two numbers which pays 5:1. For example, players can pick three and four, or two and five as the two numbers they believe will show up on two of the three dice.
Any number – Players can predict any number between one and six. The payouts are dependant on how many numbers that you have chosen appear with one number seeing a 1:1 payout, two numbers seeing a 2:1 payout, and three numbers seeing a 3:1 payout.
Sic bo software variants
Since sic bo isn't as common online despite its popularity at land-based venues, there aren't an array of software developers which offer the title and therefore it can be hard to locate a title at a reputable online casino.
Microgaming sic bo – Microgaming offers a variant which is simply titled Sic Bo. Players who plan to bet both large and small stakes can play. The layout is standard and each betting option is clearly displayed. To kick the game off, players need to make at least one bet by placing a chip on their desired betting area. There isn't a limit on the amount of bets, but there is a minimum $1 bet required for the Microgaming variant, and once you are ready all you have to do is click on the roll button and three dice will be rolled. The highest paying bet for the Microgaming variant, which is generally like all variants, is the the triple bet but it pays 180:1 which seems to vary across multiple software developer's sic bo variants.
Playtech sic bo – Playtech's variant is also called Sic Bo and offers a clear betting display area just like Microgaming. If players struggle with any of the areas there is actually a list available accessed easily by clicking on the help link. Unfortunately, it is said that Playtech's payouts are somewhat lower than other software developer's sic bo variants. This title isn't available at any of our online casinos which we recommend but has been found at rogue online casinos such as African Palace casino. Therefore it might be best to steer clear of this title until it is available at a reputable online casino where you can be sure it won't ruin your sic bo online gaming experience.
Play'n Go sic bo variant – Play'n Go don't have a sic bo title to be exact; rather, they have an interesting Triple Chance Hi-Lo title which has similar characteristics to sic bo. It is basically a game based on the small and big bets in sic bo. Players pick out of three options whether or not one of the three outcomes will be high, in terms of the number being more than 11 but less than 17, or low, in terms of the number being more than four but less than 10. While this game isn't necessarily your traditional sic bo variant, if you do only like the small and big bets in the game it's a good alternative to check out.
History of sic bo
While sic bo seems to be one of the more recent games to hit the online realm it actually has an extensive history which dates back to before the 1900s, which means the game is older than Australia's settlement.
Sic bo is said to have derived from China over 200 years ago, with the game also going by the name Tai Sai or Dai Siu, which both mean Big Small, a large concept behind the game. However, the name sic bo actually means dice pair, which does suggest the game was originally played with two dice, rather than the three that is involved in modern gameplay. These 'dice' were actually large bricks which had numbered sides, which made for a heavy toss, so we are thankful we can play online without the need to be able to lift a certain weight.
The game was incredibly popular in China, but as the Chinese began to migrate to the US the game went with them and stayed due to its unique appeal. Sic bo was played in North America by the immigrant population as well as manual labour co-workers who were locals.
In both the 1920s and 1940s when Chinese immigration became more prominent, sic bo did too. The game was picked up by carnival events with the game going by the title 'Chuck-a-Luck' due to their variation involving a cage to roll the dice and determine the outcome. This has also seen the game titled 'birdcage' at various events.
Regardless of the variations in terms of both the name of the game and the gameplay, the original format still exists and is quite popular at land-based venues, with the online realm picking it up too.
Sic bo truly made its debut at land-based casinos when Stanley Ho opened up Hotel Lisboa in Monte Carlo where the game was situated alongside blackjack and roulette titles. From here it began to spread quickly all over the US and has even made it to Australia and online.