Christmas has come early at Leo Vegas, with the leading online casino in the midst of a $10,000 giveaway throughout the month of October.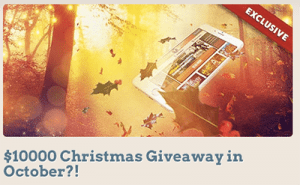 With stores around the world already donning festive decorations and gift suggestions and blaring Christmas carols through the speakers, LeoVegas thought 'if you can't beat them, join them'.
Now, every weekday throughout the month, players are given the chance to win one of more than 300 exciting presents ranging from free bonus money and free spins right through to sports bets and live casino cash drops.
Winners are selected at random, with the eligibility of the promoting simply requiring you to have deposited $5 or more throughout 2016 to get on the gift list.
If you are eligible, all you need to then do is deposit $10 or more from noon until midnight on any weekday and enjoy playing the wide variety of games on offer at LeoVegas.
Be sure to check your account each day, with Santa's little helpers dropping their presents into accounts between noon and midnight.
However, if you don't unwrap your gift before the clock strikes midnight, the elves will be back to steal the present back. The unclaimed gift then goes into a big pot to create an even more exciting giveaway on each Friday.
There are a couple of terms and conditions to go with the promotion, with all prizes required to be 'played through' 15 times before you can cash out on your winnings.
Also important to note is that your $10 deposit only sees you eligible to claim a present on the same day, except on days when free spins are rewarded.
Christmas in October – the presents up for grabs
There is a stack of goodies on offer throughout the month, with the breakdown of the presents on each particular day as follows:
Weekday
The Prize
Tue 11th
10x $30 to play in the Casino
Wed 12th
10x 250 Free Spins on Gold Lab
Thu 13th
10x $30 to play in the Live Casino
Fri 14th
10x Over $20 to play in the Casino
—
—
Mon 17th
10x Over $50 to play in the Casino
Tue 18th
10x 300 Free Spins on Double Dragons
Wed 19th
10x $35 to play in the Casino
Thu 20th
10x $35 to play in the Live Casino
Fri 21st
10x Over $20 to play in the Casino
—
—
Mon 24th
11x 66 Free Spins on Big Bad Wolf
Tue 25th
20x $20 to play in the Casino
Wed 26th
100x $13 to play in the Live Casino
Thu 27th
20x Over $20 to play in the Casino
Fri 28th
5 x 80 Free Spins, $80 to play in the Casino