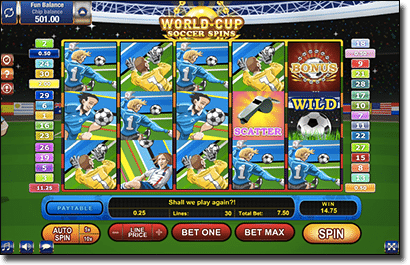 Slots Million have football fever again, and are offering players the chance to multiply your winnings based on football scores.
Kicking off today, and running until Wednesday, Slots Million Casino is offering players the chance to win bonus money by supporting your favourite football teams playing over the next few days.
The online casino has chosen 14 football-themed slots and categorised them into TEAM HOME and TEAM AWAY, with seven on each team.
There are two promotional periods to choose from:
TEAM HOME for today and tomorrow supports FC Porto, while TEAM AWAY supports Chelsea.
TEAM HOME for Wednesday supports Manchester United, while TEAM AWAY supports Wolfsburg.
The slots available for each team include:
FC Porto and Manchester United
Global Cup Soccer
Shoot!
Football Cup
Golden Goals
Football Fans
World-Cup Soccer Spins
Top Trumps – Football Legends
Chelsea and Vfl Wolfsburg
Football Star
Football Fever
Soccer Safari
Champions Goal
Penalty Shootout
Top Trumps – World Football Stars
Top Trumps – Football Stars 2014
Simply play one or more of the seven slots in either categories in order to support who you think is going to win, and in turn win cash yourself. All you have to do is pick one out of the seven, or even choose all seven, and play at least 100 rounds, where you will earn $2. The minimum wager per spin is $0.50, but you can earn up to $20 by playing 1000 rounds on all seven slots.
But the best part about this promotion is that every time your chosen team scores a goal your winnings are multiplied.
The following amount of goals see your winnings multiplied as follows;
Zero goals sees a 1x multiplier
One goal sees a 2x multiplier
Two goals sees a 3x multiplier
Three goals sees a 4x multiplier
Four goals sees a 5x multiplier
You can win up to €100 if your team scores enough goals.
Please note that you you can't switch the team you have chosen to support that day, but you can the following day.
Follow our links to Slots Million, click on their 'promotions' page, and then on the 'Glory, Glory, Hallelujah' promotion. Here you will find the four teams and players simply click on them to be taken to their supporting slots.